Guide for Simple Wedding Table Decorations
Less can be more when it comes to decorating tables at your wedding reception. While it's every bride's dream to have beautifully adorned tables at her reception, that dream doesn't have to include elaborate centerpieces or expensive custom designed floral designs. In fact, with a trip or two to your local craft supply store, florist or even Dollar Store (for brides low on funds) you can create simple wedding table decorations that will leave your guests wondering who created such understated yet beautiful decor. If you're going for simple table decorations, follow these steps.

Green floral simple table decorations ideas


Instructions


* White or cream table linens
* Votive holders
* Votive candles
* Ribbon
* Fresh flowers or fruit
* Square glass vases or glass bowls

* 1. Choose solid colored table linens. For a simple look, opt for clean and crisp white or ivory table cloths and napkins. To incorporate your wedding colors, use coordinating ribbon to make a handmade napkin ring. Simply fold your napkin into a square and gather it in the center. Tie the ribbon around it and make a bow in the front. Tuck the flatware under the bow, laying it flat against the napkin. Snip the edges of the ribbon diagonally for a polished look.
* 2. Purchase an assortment of votive candle holders. If your wish to incorporate your wedding colors into your table décor, consider using clear glass votive holders with colored votives or colored votive holders with white or cream candles. In the center of each table, group together a dozen votives. Be sure that the groups of votives are not arranged in any particular pattern to achieve a simple, elegant look. You can purchase votive candles and holders in bulk at craft supply stores like AC Moore.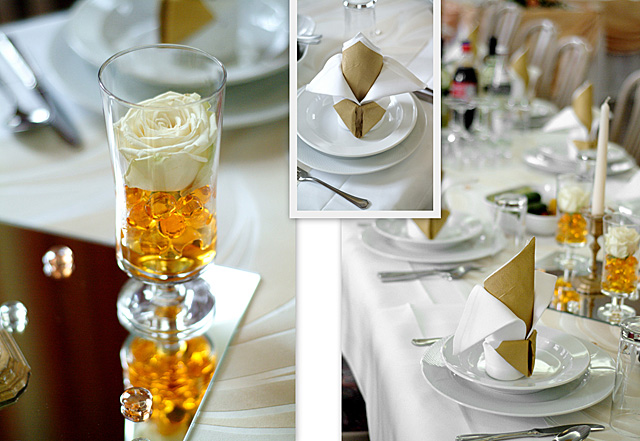 * 3. Use simple, small silver frames as place card holders. Choose plain white or cream parchment paper and handwrite the name of each guest in black ink. The frames can double as a wedding favor.

* 4. Create floral arrangements for the head table and serving table. Purchase or pick in season flowers and cut them so that they stand 8 to 10-inches tall. Place them randomly in 6-inch square vases. Achieve the simplest look by using a single type of flower in a single color. Consider tying coordinating ribbon around the vase. Space vases equally apart on the table and place votive candles evenly spaced between the vases. Fresh fruit arranged in simple glass bowls can be used instead of flowers.

* 5. Opt for glass serving bowls, silver serving utensils and white or cream solid colored dinnerware to stay consistent with your simple theme. Choose glass stemware and glasses free from etching to complete your simple table look.
By Michelle LaRowe